Community Cats
Watch this video to find answers to common questions about what to do if you stumble upon kittens and learn how to keep them safe and healthy
Community Cats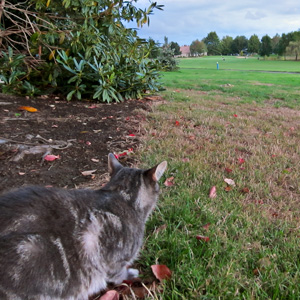 Like all animals, feral cats make their home where they find shelter and food, often in close proximity to people. We understand that not everyone enjoys having cats in their yards, and there are simple tips to help you divert outdoor cats away from certain areas. Coupled with Trap-Neuter-Return and ongoing care, these quick steps can help you coexist with your neighborhood cats.
Trap-Neuter-Return is the only effective and humane way to stabilize feral cat populations. Stray cats are humanely trapped and taken to Stanislaus Animal Services Agency, where they are spayed/neutered and vaccinated. Healthy friendly cats and kittens are evaluated for adoption, and healthy unsocialized cats are returned to the community by the Humane Association.
The Vacuum Effect
The traditional approach to feral cats "catch and kill" won't keep an area free of cats for long. Catch and kill is inhumane and creates a vacuum, as do attempts to "relocate" cats. Once the cats are removed from a territory, other cats move in to take advantage of the newly available resources and breed, forming a new colony. Known as the vacuum effect, this is a documented phenomenon in a variety of animals throughout the world. Catch and kill is an endless and costly cycle.
For more information on how to live with cats in your neighborhood go to: